Does Closing One School Music Department Really Matter?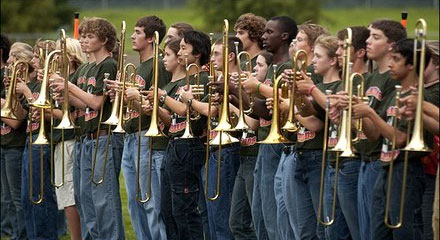 The day the music died in Fulton and 1,000 jobs disappeared
12:45 pm March 19, 2010, by Maureen Downey as seen in the Atlanta Journal Constitution.
The rock and the hard place collided in Fulton County Thursday night and shattered 1,000 school jobs and the musical ambitions of  hundreds of young students.
Among the casualties of the budget crisis in Fulton will be elementary school band and orchestra
The jobs and the much-loved elementary school music programs are casualties of the great Georgia budget deficit that is threatening to destroy everything in its path.
The news wasn't as bad in Cherokee, where the superintendent said he will cut at least 41 teacher and 76 support positions next year because of the budget crisis.  But more bleak news could be coming in Cherokee. "I think we will have to eliminate more than that,"  said Superintendent Frank Petruzielo after the Thursday night board meeting.
According to the AJC account of the emotional Fulton meeting:
Despite pleas to the contrary, Fulton County school board members Thursday night voted 6-1 to cut nearly 1,000 personnel positions, including more than 500 teachers, from its 2011 budget.

Superintendent Cindy Loe said the cuts, which included 100 custodial jobs and 59 positions in the district's popular elementary band and orchestra program, were needed to offset a $120-million deficit.

Board president Linda Bryant said that the budget crisis was not unique to Fulton as school districts across metro Atlanta have been grappling with budget deficits. She and other board members said they do not take thecuts lightly and that they have tried to make the right decisions.

Said Bryant: "I can hardly stand to see anybody lose their jobs but we are doing the absolute best we can … even with the music program. I hate all of this but with the state of the economy, you just can't do anything without money."
The cuts were on top of more than $34 million in cuts approved in February, when the board voted to increase class size to the state maximum across all grades, eliminate the pre-kindergarten general fund and summer CRCT re-take program and to reduce the school calendar from 180 to 177 days. The board also approved eliminating more than 60 central office positions for a savings of nearly $4 million.

The system is proposing a 2011 budget that is about $137 million less than the 2010 budget, from $857 million to $720 million.
Parents and students had clearly picked their battles. Some who gathered at Dunwoody Springs Charter Elementary School wanted to save teacher jobs. Many were there to make a last ditch effort to save the district's popular elementary school band and orchestra program.

Binita Patel, a junior band student at Chattahoochee High School, told the board: "I am who I am today because of Fulton County music education."
At this point, it would take a march on the Capitol by hundreds of thousands of parents to get the General Assembly to reconsider its reluctance to raise taxes to protect schools from deep cuts.

But without a tax increase, it is a given that "non essential" programs and people will continue to disappear in Fulton, Cherokee and across the state.